Manure Hose Carts
Once You Roll From the Front You Will Never Go Back!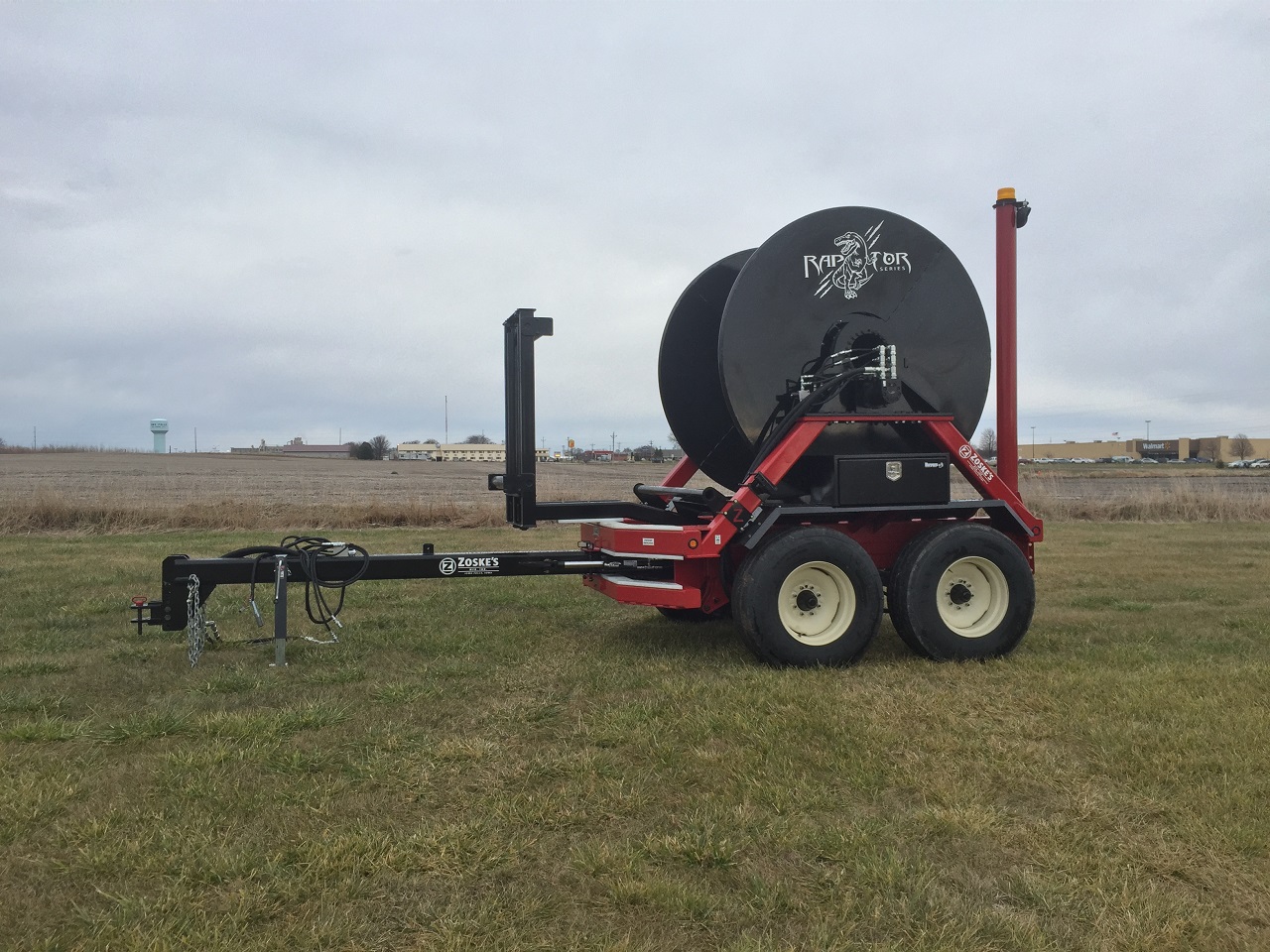 The Raptor Series Hose Cart Features:
Heavy Duty Frame

Tandem Axle with optional flotation tires

Hydraulic pivoting hitch swings the cart outside the tractor duals allowing the operator to roll hose from the front using the level wind

Single direct drive 2 speed hydraulic motor with a Slewing Ring eliminating the need for chains and gear boxes

Capable of operating the entire cart off one tractor hydraulic remote or the Power Beyond

Lay hose out at speeds up to 10 MPH with the spool under power

No need for second man to drive on hose with Utility Vehicle while laying hose out

36″ x 16″ x 14″ toolbox on driver side fender

4 LED work lights off the back of the cart

2 360 degree strobe lights mounted at the top of the light posts for additional warning during road travel and safety

Rear receiver and trailer electrical plug for towing another piece of equipment
The Raptor Series Hose Cart Models:
Raptor 10: Holds (10) 660′ sections of 6″ hose, (5) 660′ sections of 8″ hose
Raptor 16: Holds (16) 660′ sections of 6″ hose, (8) 660′ sections of 8″ hose
Raptor 32: Holds (32) 660′ sections of 6″ hose, (16) 660′ sections of 8″ hose
The Raptor Series hose cart hydraulically swings to either side of the tractor getting the entire spool outside the duals allowing the hose to be rolled from the front.  This makes rolling hose a lot easier because the driver can see what is going on and when the couplers are coming through the level wind.  The operator can simply drive ahead to reduce the tension on the hose and eliminate hose damage.  The operator can also drive ahead instead of backing up in those places difficult to roll hose and maneuver through!  By driving ahead you can also pull an unlimited number of hose sections!
2 Speed Hyd Motor
Direct drive with a Slewing Ring
Optional Features:
Telescopic Ditch Arm
(Prototype shown)
Our Patent Pending Ditch Arm allows you to place the hose directly in the ditch while laying out hose with no additional help!  Simply put the spool under power and drive, the hose will be where you want it!  Want to get the hose further out in the ditch? Simply adjust the telescopic arms to the desired position and put the hose where you want it!  The ditch arm is light enough 1 man can raise and lower manually or add the optional hydraulic kit to raise and lower each arm individually or raise the arm up over any obstacle while laying out hose on the go!
Second Motor
Definitely not needed on the smaller carts but add a second motor and get an unbelievable amount of torque and speed for rolling up hose!
Electric/Hydraulic System
Patents Pending
Watch the Raptor Series Hose Cart In Action